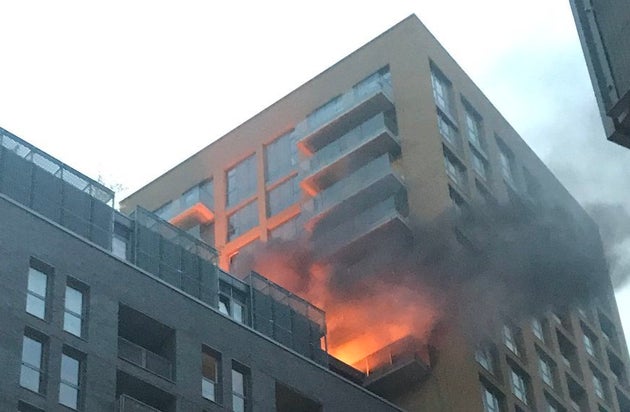 Around 150 people evacuated their homes when a blaze broke out in a tower block in south London, on the eve of the anniversary of the Grenfell Tower fire.
Nearly 60 firefighters and eight fire engines battled the large blaze on the 12th floor of the 20-storey block in Elmira Street, Lewisham, at 4.14am.
About two hours later, the London fire brigade declared the blaze under control.
A sprinkler system had been able to suppress the fire, however residents complained about the lack of fire alarms.
Not the best way to wake up this morning!
But thankful for the firefighters who kept this from spreading this morning, and neighbors who banged on each others door since the fire alarm did not sound.
Kudos to the police too for their professionalism. #LewishamFirepic.twitter.com/Hb2JiePHNJ
— Caleb Parker ???? (@Caleb_Parker) June 14, 2018
Resident, Caleb Parker, 40, who lives on the 10th floor, said: "I was sleeping and someone banged on the door and I got up and didn't know what it was.
"I heard someone else banging on the door saying, 'fire, get out'.
"I wasn't sure what to expect and when I saw the fire I thought it could be really bad."
He added: "Up to now I felt safe. I don't know that I feel unsafe, but I'm concerned, certainly on the one-year anniversary of Grenfell."
Another resident, Alix Mabon, 25, who lives on the fourth floor of Roma Corte, was one of the first people out of the building.
She praised the bravery of three teenagers who alerted her to the fire before running through the building knocking on doors.
#lewishamfirepic.twitter.com/qpKBwo4Di2
— nick cheuk (@cloudeh23) June 14, 2018
"I slept with the balcony door open," the civil servant said. "I just heard people screaming and shouting and thought it was an argument on the street, but it just got louder and louder.
"When I came out three teenagers were with the concierge shouting, 'fire, fire. Get out'.
"The first thought that came into my head was, 'Oh my God, it's Grenfell. We're going to be the next Grenfell'."
We are currently on scene in #Lewisham working with @LFBLEWISHAM and @MPSLewisham with a fire call.
Photo credit = @LAS_HARTpic.twitter.com/tuGqZHz3WA
— LondonAmbulance HART (@LAS_HART) June 14, 2018
Crews from Lee Green, Deptford, New Cross, Forest Hill and Lewisham were among those sent to tackle the blaze, the London fire brigade …read more
Source:: The Huffington Post – UK Tec
(Visited 2 times, 1 visits today)