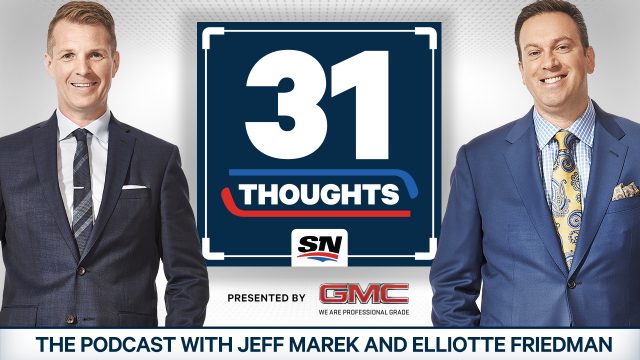 In Episode 22, Elliotte is joined by super sub David Amber ahead of Game 5 of the Stanley Cup Final in Las Vegas. They discuss the series, Alex Ovechkin, Barry Trotz and Conn Smythe favourites, as well as Lou Lamoriello's Islanders and what the roster could look like. All that plus #Ask31 and much more.
31 Thoughts: The Podcast
A weekly deep dive into the biggest hockey news in the world with hosts Elliotte Friedman and Jeff Marek. New episodes every Thursday.
Apple Podcasts
| Podcatchers
| Listen Now
6:30 David explains why Alexander Ovechkin could break Wayne Gretzky's goal scoring record.
8:50 Who gets the Conn Smythe vote heading into Game 5?
13:30 Who does Ovechkin hand the cup to?
15:10 Main takeaways from the Stanley Cup final.
20:15 Some blackjack advice from the guys.
23:55 The Islanders's search for a goaltender, will Lamoriello wait for Tavares to make a move and the best move for Tavares if he is looking to win a Stanley Cup.
35:05 What will the Montreal Canadiens do in the off-season?
42:25 The importance of Barry Trotz to the Washington Capitals.
52:14 #ASK31: "off the record" material and how you use it, will teams start checking video gamer talks when looking at prospects and what do Elliotte & David have planned for the off-season.
Source:: Sportsnet.ca