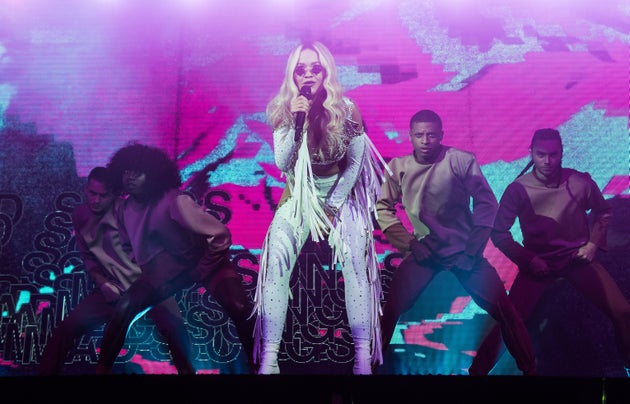 As a bisexual woman, the controversy surrounding Rita Ora's latest song Girls has been on my mind. Dubbed a 'bisexual anthem' by Ora, it has been criticised by female musicians including Hayley Kiyoko, Kehlani and Shura who feel it shows a poor representation of queer women for its references to threesomes, booze and drugs – but were they right to be upset?
It's certainly true that bisexual women are starved of any representation which doesn't cast them as confused, experimenting, promiscuous or playing to the desires of men. Growing up as a bi girl in England during the noughties, positive depictions of my sexuality were few and far between. It was the age of t.A.T.u, the male gaze-y, kissing schoolgirls, who turned out to be a sham created as a record company's money maker.
Willow from Buffy was our only saving grace, but everyone I knew described her as a lesbian, her previous romances with men and her bisexual identity totally forgotten, something which is typical in bisexual representation in the media.
It's no wonder I've often found my own sexual identity frequently denied by those around me. When I tried to come out at school, one well-meaning friend commented that you couldn't really be bi until you'd had an exact mix of male and female sexual partners. Another friend at university cheerfully told me bisexuality doesn't exist, even after having met both male and female partners of mine.
So when a song comes along which actually acknowledges your existence, while simultaneously playing into the old familiar stereotypes (promiscuous, doing it for male attention), it's hard not to feel conflicted.
Should lesbian women comment on the bi experience?
Nonetheless, some criticisms have left a sour taste. In particular I can't help but wonder if lesbian women like Shura and Kiyoko are best placed to comment on a song written by a bi woman about her experience of being bi.
Referring to Ora's lyrics about snogging women under the influence, Kiyoko
Cardi B Speaks Out Over Controversy Sparked By Rita Ora Collaboration 'Girls'
Rita Ora Addresses 'Girls' Controversy, Insisting The Song 'Represents Her Truth'
…read more
Source:: The Huffington Post – UK Tec
(Visited 1 times, 1 visits today)