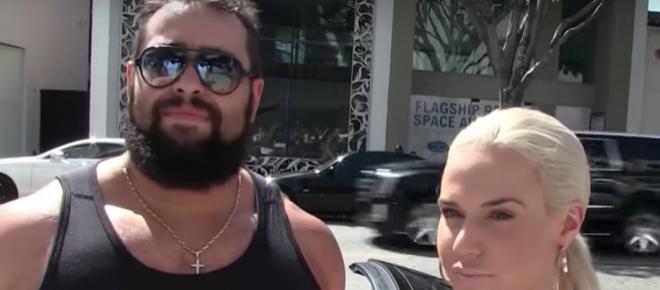 The WWE "Greatest Royal Rumble 2018" event will once again feature Rusev taking on The Undertaker in a Casket Match. Just last week it seemed like the "SmackDown Live" star was having issues with the company based on a series of strange incidents, including an interview, tweets, and his removal from the match. Chris Jericho was announced as his replacement late last week but now it seems that "Y2J" has been replaced by Rusev thanks to Lana.
Lana OKs the match
The reason given last week by WWE for Rusev being replaced in the Casket Match against Taker later this month was due to Lana's concern. Lana, real name CJ Perry, is Rusev's real-life wife who has been involved in WWE storylines with him since his arrival to the main roster. She sent out a tweet saying she didn't want Rusev in jeopardy in the match. WWE cited that as the reason they were replacing Rusev in the match with Chris Jericho.
However, WWE fans and various websites seemed to think something else was going on. An interview on TMZ involving Rusev and Lana seemed to be claiming that the "Bulgarian Brute" would crush the Deadman, who is past his prime. Undertaker's wife Michelle McCool tweeted about the interview, seeming frustrated with how it was worded or presented. Not long after that piece, the news of Jericho's insertion into the match came about. Rusev had cryptic tweets on his social media and even removed references to WWE.
…Read more …read more
Source:: blasting news
(Visited 1 times, 1 visits today)