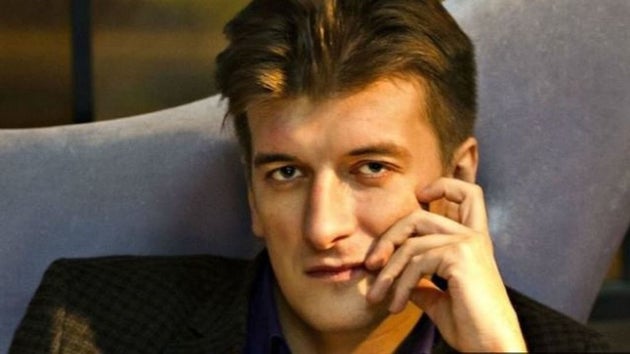 A Russian reporter investigating the deaths of Kremlin-linked mercenaries in Syria has died in a mysterious accident.
Maxim Borodin was found badly injured by neighbours on Thursday after falling from the balcony of his fifth floor flat in Yekaterinburg. He died in hospital on Sunday.
According to local reports, police said the apartment was locked from the inside and there was no suicide note. They said they were not treating the 32-year-old's death as suspicious.
The local investigative committee, which examines serious crimes, told the TASS news agency: "There are no grounds for launching a case."
His friend, Vyacheslav Bashkov, told the BBC that Borodin claimed to have spotted a man with a weapon on his balcony and people wearing camouflage and masks on the staircase earlier in the week.
Bashkov added that Borodin later called him back to say the men had been taking part in a security exercise.
Another friend, Paulina Andreevna, wrote in a Facebook post that Borodin had been hospitalised earlier in the month after a stranger attacked him outside his home.
Last year an assailant reportedly hit Borodin over the head with a steel pipe shortly after he'd reported on a controversial film about Tsar Nicholas II.
I am shocked by the death of journalist Maksim Borodin in #Russia; and I call for a full, transparent and independent investigation. Read my full statement here: https://t.co/S2yrnINmff#JournoSafepic.twitter.com/37dgWyZBRy
— OSCE media freedom (@OSCE_RFoM) April 16, 2018
#Russia|n journalist Maxim Borodin died today in Ekaterinburg after "falling" out from 5th floor in suspicious circumstances. https://t.co/cAJDErIZGU
He covered several sensitive issues in recent months.
We call for a thorough, impartial investigation into professional motive. pic.twitter.com/kklW5rFqE6
— RSF_EECA (@RSF_EECA) April 15, 2018
Borodin wrote for a news website called Novy Den covering crime and corruption, and in March wrote about the discovery in Syria of dead mercenaries, thought to be contracted to the Wagner Private Military Company.
Thousands of people have reportedly been deployed to Syria by a contracting company believed to be bankrolled by businessman – and Vladimir Putin ally – Yevgeny Prigozhin, who was indicted by the US in February on charges that he funded the "troll factory" alleged to have tried to influence the 2016 presidential election.
The Kremlin has denied reports of Russian mercenaries dying in battle in Syria.
Harlem Désir, of the international monitoring …read more
Source:: The Huffington Post – UK Tec
(Visited 1 times, 1 visits today)