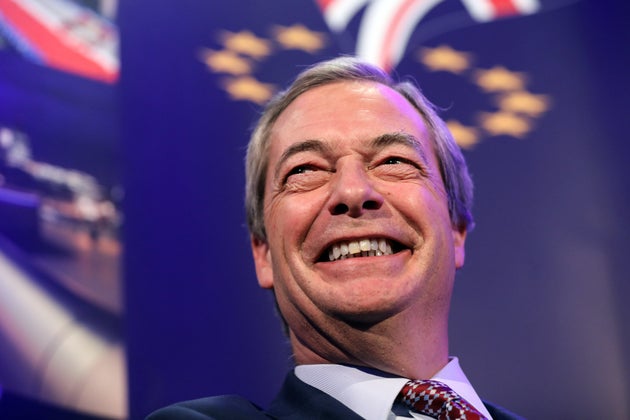 The campaign to leave the European Union used deliberately "outrageous" and "provocative" tactics to keep immigration at the top of the referendum debate, mirroring similar tactics to those used by Donald Trump, a key figure in the political campaign has said.
Andy Wigmore, who was communications director for the Leave.EU campaign, fronted by then Ukip leader Nigel Farage, appeared to compare the process to the "very clever" propaganda techniques of the Nazis.
Wigmore's comment, which were made to an academic researcher, have been made public by the Digital, Culture, Media and Sport Committee, which is conducting an inquiry into the phenomenon of "fake news".
His comments were described by the chair of the committee, Damian Collins, as "particularly concerning", but Wigmore retorted that the committee itself was "complicit in creating a fake news agenda designed to bring down Brexit".
In the recordings, Wigmore can be heard discussing Leave.EU's contacts with the controversial company Cambridge Analytica, which has come under fire over the use of Facebook users' personal data in Trump's race for the US presidency.
Wigmore states that CA did not do any work for Leave.EU after it failed in its bid to be named lead Brexit campaigner.
But he said that Leave.EU, funded by millionaire Arron Banks, "copied" CA's methods for pinpointing groups believed to be susceptible to specific messages. And he suggested that actuaries from Banks's Eldon Insurance used probability calculations to identify areas where Farage should campaign.
Wigmore was among a number of figures from the Leave campaign and companies linked to Cambridge Analytica who spoke to Essex University researcher Emma Briant for an upcoming book on the Trump campaign.
He told Dr Briant that Leave.EU "completely, completely, completely" copied Trump's campaign technique of making attention-grabbing and controversial comments.
"The only way we were going to make a noise was to follow the Trump doctrine, which was: the more outrageous we are, the more attention we'll get, and the more attention we get, the more outrageous we'll be," said Wigmore. "And that's exactly what we did."
He admitted that the campaigners were "unsure constantly if we were doing the right thing" and were concerned they would be blamed for creating "a wave of hatred and racism".
After the murder of Labour MP Jo Cox, he said the campaign thought that "maybe we have gone too far", with Farage fearing Leave would lose the referendum vote a few days later. But he said that in the …read more
Source:: The Huffington Post – UK Tec
(Visited 1 times, 1 visits today)