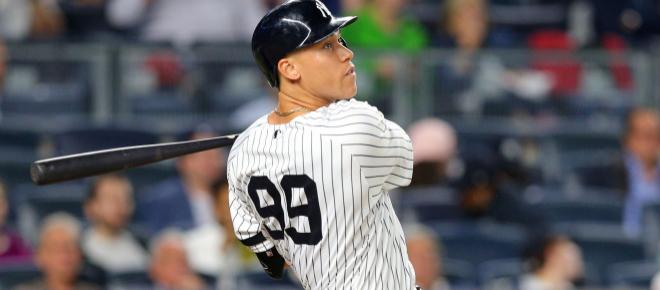 Sophomore slump? Not for this guy! Aaron Judge is proving that he isn't ready for any type of a second-year fall-off as he is once again starting the season with a bang. Judge is picking up right where he left off in 2017 by terrorizing the opponents' pitching staff and hitting moonshot home runs and on Monday night the 26-year old set a record in front of the hometown fans in the Bronx.
Judge on record pace
The baseball world saw a very small dose of Aaron Judge for the first time in 2016, and while expectations were high, not many guessed that he would blossom into a modern day Mickey Mantle.
According to an MLB.com report, Judge set a Major League record on Monday by cracking the 60th home run of his career in his 197th game played, becoming the fastest player in baseball history to reach the mark. Judge's record-setting round-tripper came in the bottom of the second inning off of Marlins left-hander Caleb Smith. At the time it gave the Bombers a 3-0 lead. The 6′ 7″ Judge is hitting .340 in the early season and already leads the league in base-on-balls with 12. Last season Judge was walked 127 times, which led all of baseball.
…Read more …read more
Source:: blasting news
(Visited 1 times, 1 visits today)