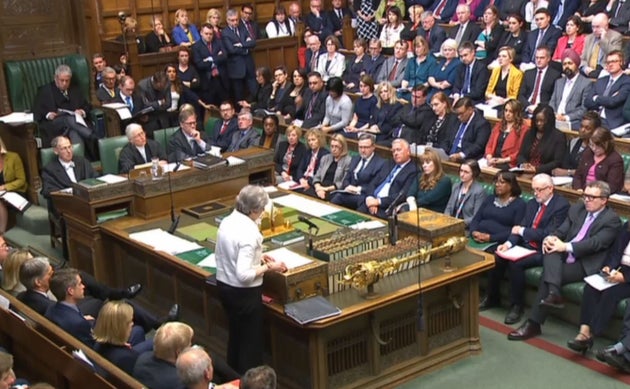 Theresa May has refused to confirm she will consult MPs before taking further military action in Syria as she faced criticism from all sides for dodging a Parliamentary vote ahead of the recent strikes.
In the Commons this afternoon MPs from all sides questioned why May had not recalled Parliament before giving the green light to bombing targets in Syria in the early hours of Saturday morning.
The convention of consulting MPs before authorising military action was established by Tony Blair in 2003 ahead of the Iraq War, but it is not a legal necessity.
After setting out her justification for joining with the US and France in carrying out the bombing raids on chemical weapon targets in the Middle East country, May was grilled on why she had not allowed MPs to vote on the attack.
Labour's former Shadow Foreign Secretary Hilary Benn said: "As someone who supported military action against Daesh in Syria in December 2015, may I say gently to the Prime Minister that she should have come first to the House before committing our forces to action.
"Therefore may I ask her to give us an assurance that in the event, heaven forbid, that President Assad chooses to use chemical weapons against innocent civilians once again, that she will come to Parliament first, that she will share such evidence as she can with us as she has done today and that she will trust Parliament to decide what is to be done?"
May replied: "I recognise the importance and significance of Parliament and Parliament being able to make its views known on these issues.
"But it is also important that the Government is able to act and there will always be circumstances in which it's important for the Government to be able to act and for the operational security of our armed forces to be able to do so without that debate having taken place in Parliament."
Labour's former Shadow Home Secretary Yvette Cooper also pressured the Prime Minister to commit to coming to Parliament ahead of any further action, telling May: "Parliament has considered these kind of complex issues before.
"We have voted for and against military action, we have got things right and got things wrong and so too has the executive."
She added: "Given the importance of us pioneering democratic values across the world can she clarify her position on this and say how important she thinks this it is for Parliament to …read more
Source:: The Huffington Post – UK Tec
(Visited 1 times, 1 visits today)