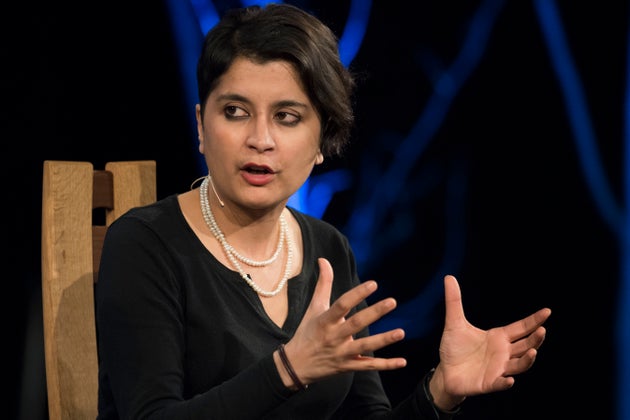 Shami Chakrabarti has said it was wrong for Theresa May to launch military strikes against the Syrian regime simply to punish its "bad behaviour".
Labour's shadow attorney general said on Monday morning the government had "not passed the tests" it set for itself to justify the attack in the early hours of Saturday morning.
"I don't think that the government can demonstrate convincing evidence, and a general acceptance by the international community that they had to act in the way they did a few days ago," she told BBC Radio 4′s Today programme.
"You have to actually be using urgent, necessary and proportionate force. And you have to do it with the will of the world behind you."
She added: "You can't use force under international law just to punish Syria for bad behaviour."
Theresa May will today tell MPs military intervention in Syria was "Britain's national interest".
The prime minister is expected to apply for an emergency Commons debate on the joint British, US and French missile strikes in response to the chemical attack that killed at least 70 people.
It comes amid reports Conservative MPs were put on a three-line whip to attend Parliament on Tuesday afternoon, suggesting the debate could lead to a vote – which would be non-binding but potentially disastrous for May's authority.
May has faced criticism for not asking for parliamentary approval before agreeing the missile strikes on key chemical and military facilities in Syria.
Chakrabarti said the prime minister should have recalled parliament last week to hold a vote.
"Some people will suspect that that didn't happen because of governmental concerns that they couldn't get the vote in Parliament. And that to me is not a good enough reason," she said.
On Sunday, Jeremy Corbyn called for a 'war powers act' to guarantee MPs gets a vote on military action in the future.
The Labour leader claimed May's decision was "policy made up by Twitter" and that the Prime Minister had been too keen to "follow Donald Trump's lead".
Boris Johnson this morning defended the strikes as "proportionate" and "entirely the right thing to do".
The foreign secretary stressed it was "not an attempt to change the tide of the war in Syria or to have regime change" and "the Syrian war in many ways will go on in its horrible, miserable way".
"But it was the world saying that we have had enough of the use of chemical weapons, the erosion of that taboo that has …read more
Source:: The Huffington Post – UK Tec
(Visited 3 times, 1 visits today)