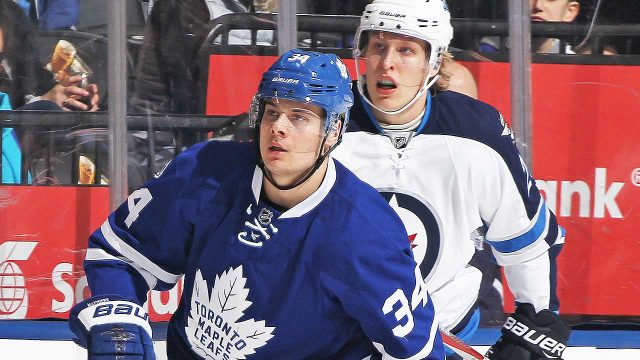 LOS ANGELES – On the day last June when Jonathan Marchessault learned he would be selected in the expansion draft and go to Las Vegas, he texted Florida Panthers teammate Reilly Smith to tell him.
His friend texted right back: "Me, too."
Not everyone who donated players to the most successful first-year team in National Hockey League history has seller's regret.
Matt Murray had already replaced Marc-Andre Fleury as the Pittsburgh Penguins' starting goalie before Fleury was claimed in the expansion draft by the Vegas Golden Knights and had a redemptive season in the desert.
Forward James Neal became one of the Golden Knights' leaders – and scored 25 goals in 71 games – but the Nashville Predators won the Presidents' Trophy without him and are one of the Stanley Cup favourites.
Stanley Cup Playoffs on Sportsnet NOW
Livestream every single game of the 2018 Stanley Cup Playoffs—blackout free—plus the Toronto Blue Jays, key Raptors & NBA Playoffs matchups and the 100th Mastercard Memorial Cup, all in one subscription.
SIGN UP
Even William Karlsson, whose 43-goal season made him the poster boy for the Knights' spectacular and improbable success, was available in the expansion draft because the Columbus Blue Jackets wanted to keep Josh Anderson, a 23-year-old power forward who had 19 goals in 63 games this season and last year outscored Karlsson 17-6.
But then there are the Florida Panthers – the Panthers who missed the playoffs by a point after they surrendered Marchessault in the expansion draft and discarded Smith, giving him to Vegas for a fourth-round draft pick in order to shed the fast winger's five-year, $25-million contract.
"We didn't think in those terms like there would be chemistry," Knights general manager George McPhee told Sportsnet. "We traded for Reilly Smith because we liked him, but there was risk there because he had a big contract and if he doesn't play up to his contract, then we're in jail."
McPhee needn't have worried. Smith scored 60 points in 67 games playing opposite Marchessault, who produced 75 points in 78 games. The 27-year-olds, who rarely played together in Florida, gave the Knights an instant first line. And when coach Gerard Gallant moved Karlsson between them four weeks into the season, Vegas' first line became one of the best units in the NHL.
By the way, Gallant was another Florida donation, absurdly …read more
Source:: Sportsnet.ca
(Visited 1 times, 1 visits today)