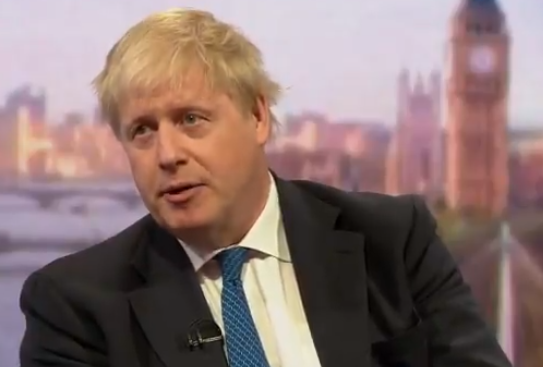 The news agenda this weekend has been dominated, unsurprisingly, by Theresa May's decision to join the USA and France in launching air strikes in Syria.
It has sparked a huge political row, with many MPs appalled the PM did not seek the backing of Parliament before pressing ahead with military action against the Assad regime.
We'll hear more from the government tomorrow, when May makes a statement in the Commons.
But for now, here's all you need to know from Sunday's political programmes.
Syria
Jeremy Corbyn made his views on the intervention very clear on the Andrew Marr Show, accusing May of being too quick to follow Donald Trump's lead and using policy "made up on Twitter".
He was backed up by his shadow justice secretary, Richard Burgon, on Sky's Sunday With Paterson.
"The Prime Minister of our country seems to pay more heed to the Twitter tantrums of Donald Trump than to the British Parliament" says Labour's @RichardBurgon#Patersonpic.twitter.com/PrDa8dDaQG
— Sunday with Paterson (@RidgeOnSunday) April 15, 2018
The Labour leader wants a War Powers Act to be put in place, to prevent governments taking drastic steps abroad without the support of MPs and for a "political solution" to to the conflict to be reached.
"Parliament should have a say in this and the Prime Minister could have quite easily done that"@jeremycorbyn calls for a War Powers Act to guarantee MPs a vote on military action #marr#Syriapic.twitter.com/56lTQB5bOT
— The Andrew Marr Show (@MarrShow) April 15, 2018
Corbyn wants the international Organisation for the Prohibition of Chemical Weapons to take the lead in investigating exactly what went on in the rebel-held town of Douma, where civilians were targeted in a suspected chemical attack.
.@jeremycorbyn says Assad "or any other group" that carried out the Douma attack must be confronted with "evidence" #marrpic.twitter.com/BXR6D32FgT
— The Andrew Marr Show (@MarrShow) April 15, 2018
He believes humanitarian grounds alone did not provide enough of a basis for the UK to launch air strikes and said he could not support such action unless it had UN backing (which Russia could still veto).
"I can only countenance involvement in Syria if there is @UN authority behind it" – Labour leader @jeremycorbyn tells #marrhttps://t.co/ylyDFV9zQ7pic.twitter.com/A7r2a9mZ78
— BBC News (UK) (@BBCNews) April 15, 2018
Boris Johnson told the programme he believed the government had taken "successful, timely, …read more
Source:: The Huffington Post – UK Tec
(Visited 1 times, 1 visits today)