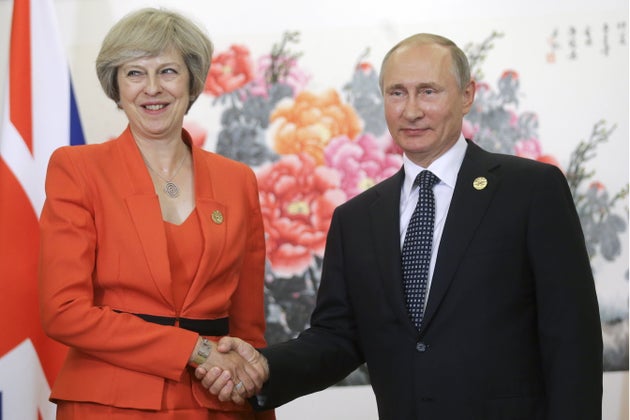 The UK's "tit for tat" row with Russia is set to escalate, a senior Cabinet source has warned as neither country "wants to be the first not to retaliate".
Speaking just hours after Theresa May announced 23 Russian diplomats would be expelled from the UK, the source predicted tensions would rise further in the next few days.
The source predicted Vladimir Putin would sling out UK diplomats from Russia on Friday, to give himself a popularity boost ahead of the country's presidential election on Sunday.
May announced the expulsion of the diplomats – the largest act of its kind in more than 30 years – after Russia refused to provide a "credible" explanation for why a nerve agent it produced was used in attack on former Moscow spy and his daughter in Salisbury.
The source confirmed the UK had further measures available to it if Russia wanted to get into a diplomatic war.
The source said: "It's tit for tat now – it will escalate so we had to have other options open to us."
Warning of the increase in actions between the two states, the source said: "No one wants to be the first not to retaliate."
In an insight to Cabinet thinking, the source revealed ministers were analysing whether the Russians carried out the attack because of "operational necessity", or the Kremlin wanted to send "a message".
Such a message could be electoral positioning ahead of Sunday's vote; a reminder to the UK that Russia had the capability and will to carry out the attack; or a warning to Russian dissidents that the cost of betrayal could be a murder attempt.
In a swipe at Labour leader Jeremy Corbyn, the source questioned the notion he was acting out of principle in refusing to directly condemn Russia for the attack.
"What's the principle? Russia is a criminal state," said the source.
Announcing the expulsion of Russian diplomats, May told MPs they were "undeclared intelligence officers".
The Prime Minister added the UK was suspending high-level contacts with Russia and that dignitaries, including members of the royal family, will not attend this summer's World Cup.
London had given Moscow until midnight on Wednesday to explain whether it was behind the attack on ex-spy Sergei Skripal and his daughter in Salisbury, or had lost control of the nerve agent used.
With the midnight deadline passed, May told MPs today: "No explanation as to how this agent came to be used in the United …read more
Source:: The Huffington Post – UK Tec
(Visited 2 times, 1 visits today)