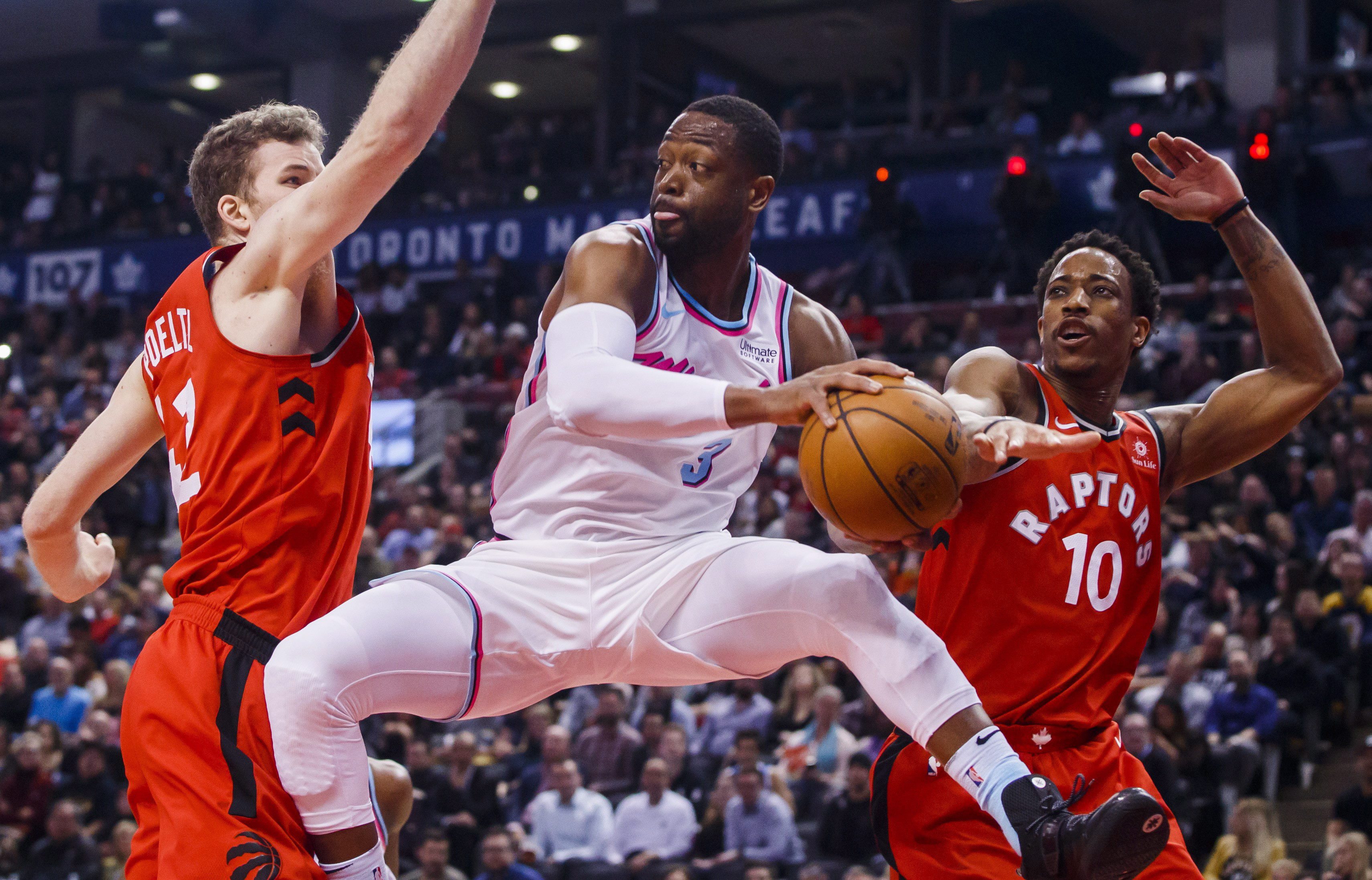 For long stretches on Tuesday night, the Miami Heat represented the Toronto Raptors' worst nightmare.
An Erik Spoelstra-coached team with Dwyane Wade looking for a swan song, the Heat are lurking at the bottom of the Eastern Conference playoff bracket like quicksand, ready to draw the Raptors and their splendid regular season into the muck.
Remember the Heat pushing the Raptors to seven grind-it-out games in the second round of the 2016 playoffs?
Yeah, like that, except in the first round.
For every Raptors perceived strength, the Heat game plan would have answer.
Want to slow down DeMar DeRozan?
Give him a steady dose of Justice Winslow pressuring him on the perimeter and steering him into the giant paws of Hassan Whiteside, lurking in the paint, turning all those floaters into prayers, and doing it all without bailing DeRozan out by putting him on free-throw line.
Want an antidote for Raptors all-star Kyle Lowry? Have him deal with Heat all-star point guard Goran Dragic running it down his throat all night.
C.J. Miles rolling, hitting 15 of his last 23 triples over four games?
Well, few teams can follow a scouting report better than the Heat. And if the game plan calls for the Raptors sharp-shooter to be run off the line, challenging him to put it on the floor and take his chances against Whiteside in behind, that's what they're going to do.
Guess what? Miles was 2-of-10 from three with bodies flying at him from all angles.
It worked well for about 40 of 48 minutes in the Raptors' 115-112 win over the visiting Heat at Air Canada Centre. Toronto exploded for a 19-4 run in the last eight minutes of the third quarter that was the difference in the game. But it was the only stretch where the Raptors looked like the Raptors, and the Heat didn't look like a team that could give Toronto or anyone in the East everything they could handle in a playoff series.
The Heat are one of only four teams to beat the Raptors at home, but are the only team to have pushed them to the limit twice.
Miami responded to the Raptors surge with a 31-17 fourth quarter that made a seeming blowout a one-possession game in the final moments. It was hard for the Raptors – even as they stretched their winning streak to six games and seven at home – to look …read more
Source:: Sportsnet.ca
(Visited 1 times, 1 visits today)