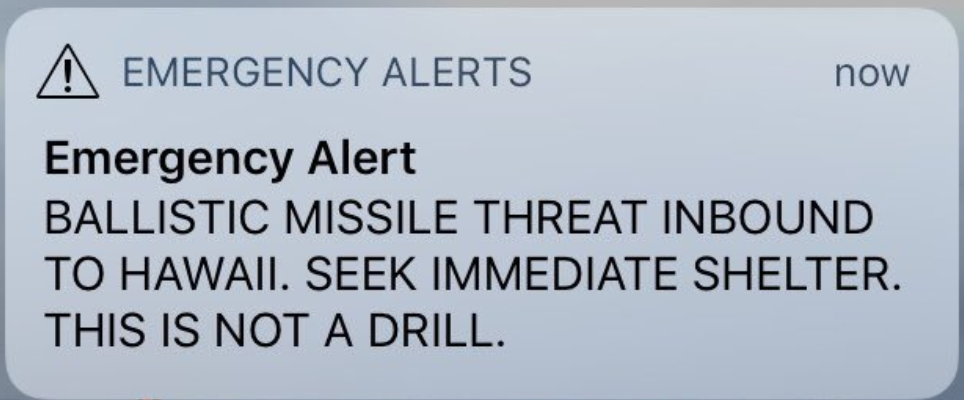 People in Hawaii have shared harrowing accounts after receiving a false ballistic missile threat alert on Saturday.
Residents woke up to an incorrect message sent to their mobile phones this morning warning that an attack on the North Pacific US state was imminent.
But about 30 minutes later the US military's Pacific Command said it "detected no ballistic missile threat to Hawaii" and that the message warning had been sent in error.
The incident occurred amid high international tensions over North Korea's development of a ballistic nuclear weapon.
U.S. Pacific Command has detected no ballistic missile threat to Hawaii. Earlier message was sent in error. State of Hawaii will send out a correction message as soon possible. pic.twitter.com/hqidbV0BWn
— U.S. Pacific Command (@PacificCommand) January 13, 2018
Kim Jong-un has threatened to unleash his country's growing missile weapon capability against the US territory of Guam or US states, prompting Donald Trump to threaten tough actions against Pyongyang.
The message was sent by text at 8:07am local time (18:07 GMT) and it took about 30 minutes for officials to send a follow-up text correcting the alert.
Many people who were in Hawaii or have loved ones currently in the US state shared their harrowing ordeals on social media.
This was my phone when I woke up just now. I'm in Honolulu, #Hawaii and my family is on the North Shore. They were hiding in the garage. My mom and sister were crying. It was a false alarm, but betting a lot of people are shaken. @KPRC2pic.twitter.com/m6EKxH3QqQ
— Sara Donchey (@KPRC2Sara) January 13, 2018
A big issue with today's false alarm: how long it took for an official alert to go out saying it was, in fact , a false alarm.
I received this text from a dear friend describing her family in Hawaii's experience + how tweets were what revealed there was no real threat. Scary. pic.twitter.com/s7CovtD9wi
— Lisa Feierman (@lisathefeierman) January 13, 2018
"Someone else I know went to a makeshift shelter with a bottle of wine and bottles of pills… The stories coming out are nuts," my friend adds.
My heart is breaking. No doubt a major investigation is underway, and as a result someone must be held accountable for today.
— Lisa Feierman (@lisathefeierman) January 13, 2018
So sorry for all the people in Hawaii who went through that — we know someone who's there …read more
Source:: The Huffington Post – UK Tec
(Visited 2 times, 1 visits today)