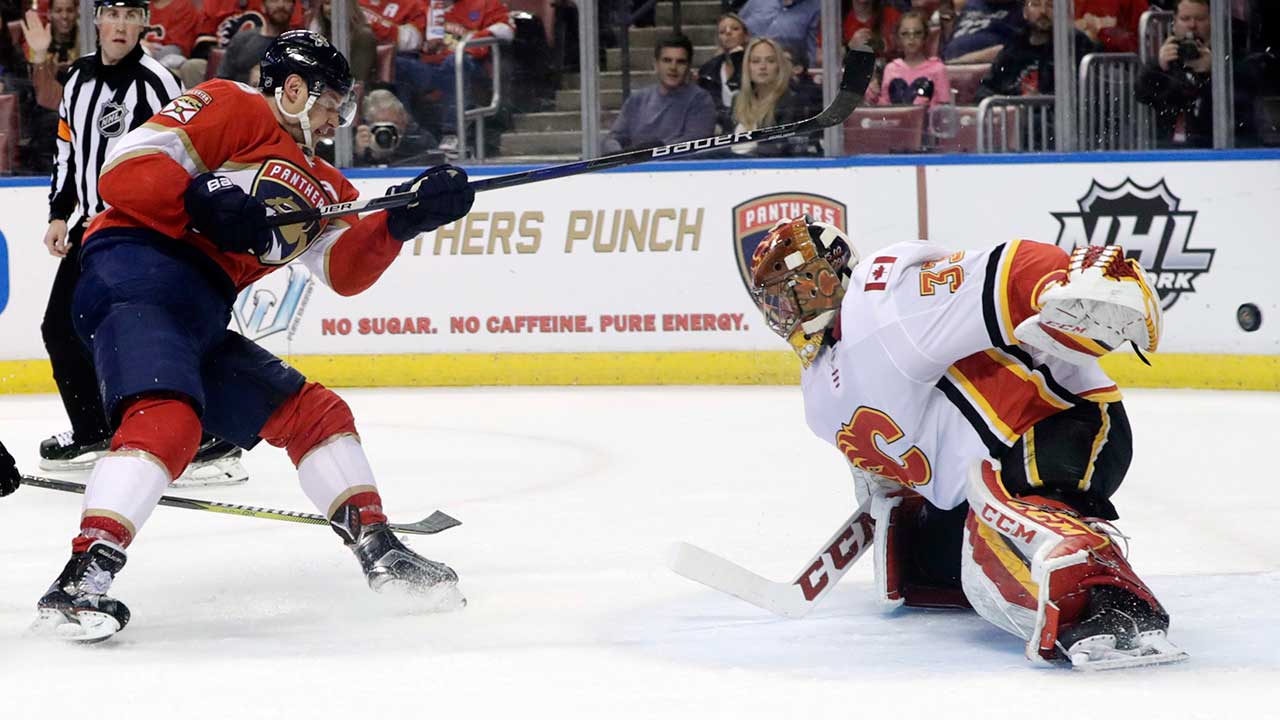 The Calgary Flames extended their NHL-long winning streak to six games on Friday night, completing a two-game sweep of the Sunshine State with a 4-2 victory over the Florida Panthers at BB&T Center.
STREAKING UP THE STANDINGS
After moving into a Stanley Cup playoff spot with a 5-1 win in Tampa on Thursday, the Flames stretched their winning streak versus the Panthers to four games with 4-2 come-from-behind win in Sunrise on Friday. Thanks to their season-long six-game winning streak, the Flames have inched to within one point of the second place Kings in the Pacific Division standings.
RITTICH REMAINS UNBEATEN
In today's NHL, it's tough to have success without two good goaltenders. As good as Mike Smith has been for the Flames this season, he can't play every game. With that said, one of the reasons Smith has started 37 of Calgary's first 44 games is because the team couldn't trust former No. 2 netminder Eddie Lack, who after a poor start to the season was placed on waivers, sent to the AHL and then traded to the Devils.
David Rittich, who the Flames signed as an undrafted free agent prior to the start of last season, has been fantastic since being recalled from the Stockton Heat in late November. As a matter of fact, Rittich is unbeaten in regulation time in his first five NHL starts.
Prior to Friday's game, Rittich said his confidence is growing by the day. After making a career-high 41 saves in his team's 4-2 victory over the Panthers, the 25-year-old's confidence should be at an all-time high. More importantly, so should the team's confidence in Rittich, who has earned an opportunity to play more often than just in the second of back-to-back games.
if ( "1" == true && 'undefined' !== typeof window.getIndexAds ) {
var so = {preroll:{1:{1:{siteID:191888},2:{siteID:191889}}}};
adServerUrl = window.getIndexAds( 'http://pubads.g.doubleclick.net/gampad/ads?sz=640×360&iu=%2F7326%2Fen.sportsnet.web%2FVideo&ciu_szs=300×250&impl=s&gdfp_req=1&env=vp&output=vast&unviewed_position_start=1&ad_rule=1&vid=5709376524001&cmsid=384', so, permalink);
} else {
adServerUrl = "http://pubads.g.doubleclick.net/gampad/ads?sz=640×360&iu=%2F7326%2Fen.sportsnet.web%2FVideo&ciu_szs=300×250&impl=s&gdfp_req=1&env=vp&output=vast&unviewed_position_start=1&ad_rule=1&vid=5709376524001&cmsid=384";
}
$el.after( unescape("%3Cscript src="" + (document.location.protocol == "https:" ? …read more
Source:: Sportsnet.ca
(Visited 1 times, 1 visits today)