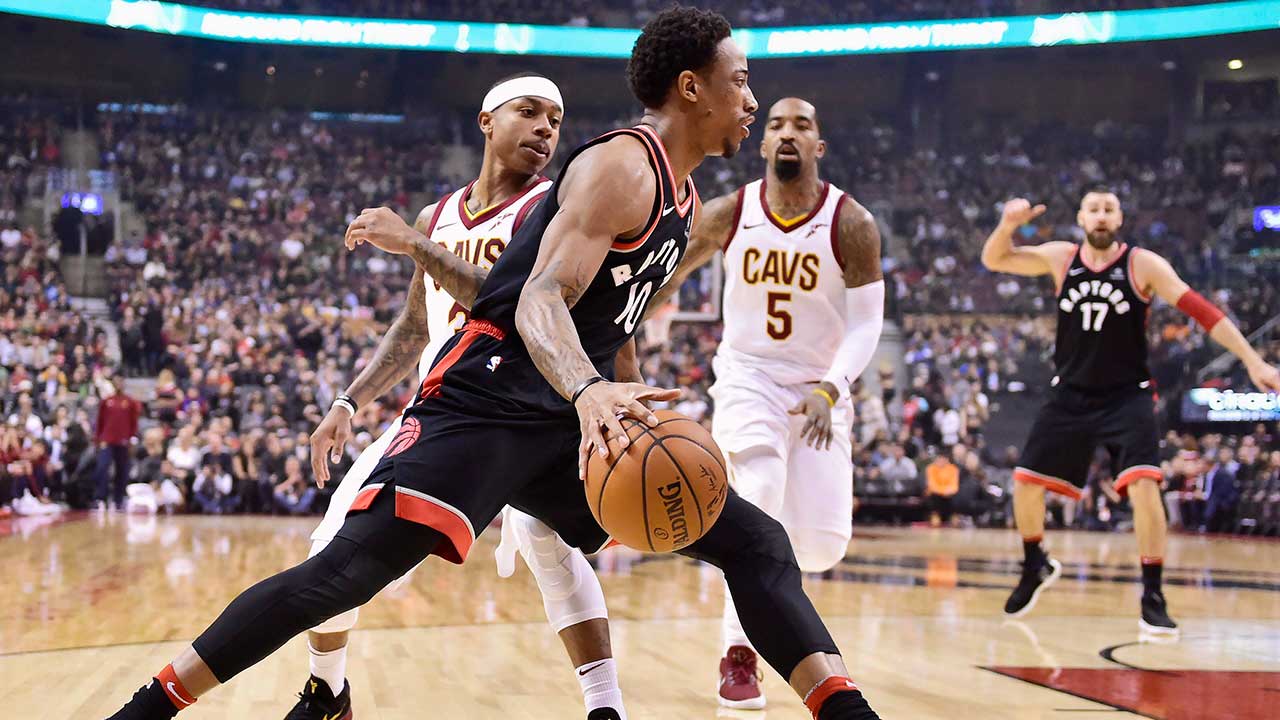 The Toronto Raptors had quite the standout showing Thursday night, beating the Cleveland Cavaliers 133-99, despite being without starters Kyle Lowry and Serge Ibaka.
A game as lopsided as that with two playoff rivals involved is bound to spawn many questions: Are the Raptors really this good? Is Cleveland really this bad? How much of what we saw will translate to the post-season?
As such, many different outlets wrote a lot on Thursday's game, including from the prominent U.S. national media. And while a lot was taken from a Cavaliers perspective that's not to say Toronto's performance didn't impress.
Here's a look at what those covering the league had to say about Toronto's big win over Cleveland.
ESPN – Raptors have no problems with slumping Cavaliers, even without Kyle Lowry and Serge Ibaka
This Raptors game — a nationally televised affair against a playoff foe from the previous two seasons — would typically be the type of game the Dr. Jekyll Cavs would show up for. While some lackadaisical play could be expected for a team coming off three straight NBA Finals appearances, Thursday, supposedly, would be a night that would grab Cleveland's attention.
Then again, there's another Cavs trope that applied to Thursday night: underperforming when the other team is undermanned. The Raptors were missing two of their big three in Kyle Lowry and Serge Ibaka, and rather than that result in an easy night for Cleveland, all it did was set the stage for guys such as Fred VanVleet, Jakob Poeltl, Norman Powell and Pascal Siakam to make an impact.
Deadspin – I Was Wrong When I Said The Cavs Stank Back In October But I'm Definitely Right This Time
The Cleveland Cavaliers have lost seven of 10; the worst of those came last night, when they lost by 34 freaking points to a Toronto Raptors team missing two (Kyle Lowry and Serge Ibaka) of its three best players. The third, DeMar DeRozan, didn't even have a good game; he scored 13 points. That was all the Raptors needed on a night when the Cavs made peppy li'l tyke Fred VanVleet look like Tiny Archibald. Garbage time began in the second quarter.
…The Cavs can't defend anybody; they can't shoot; half the roster looks washed up. Last night they got smushed all over the court by a tragic keyboard incident called "Jakob Poeltl." …read more
Source:: Sportsnet.ca
(Visited 2 times, 1 visits today)