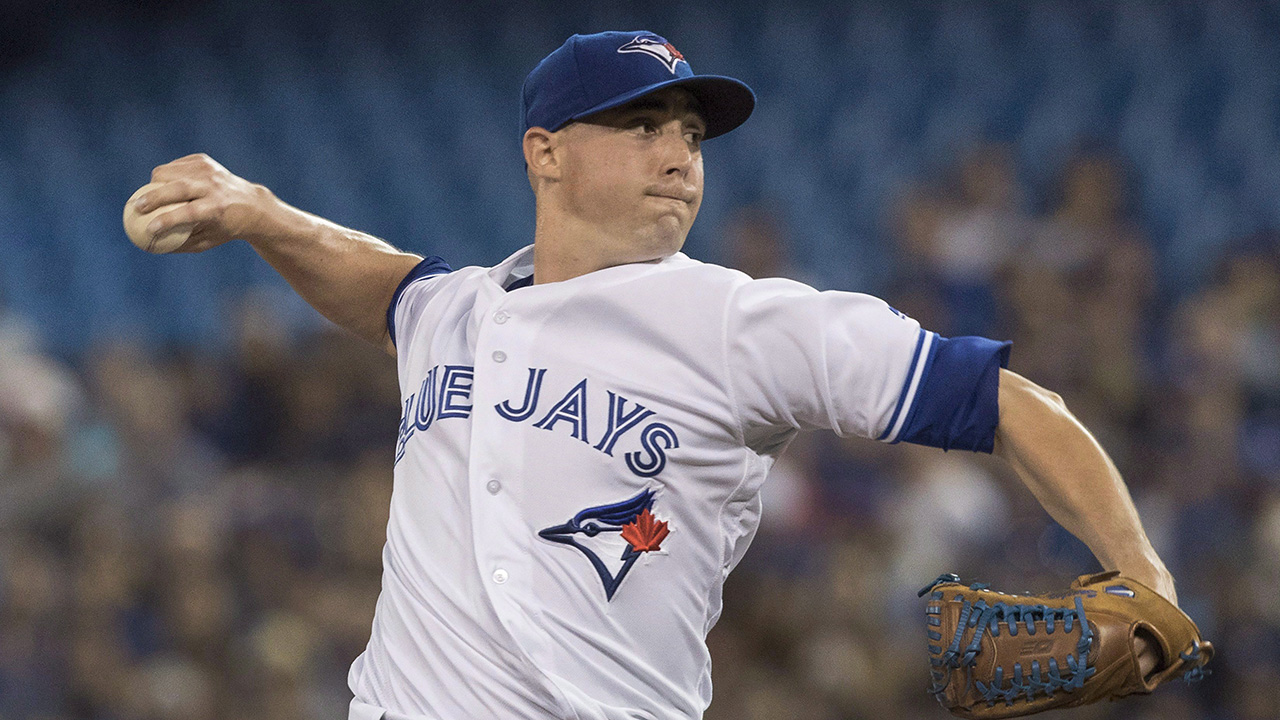 BURNABY, B.C. — Aaron Sanchez felt like he was trying to run in quicksand last season.
Coming off a breakout campaign where the Toronto Blue Jays starter led the American League in earned-run average and got his first all-star nod, 2017 was marred by blister and nail issues on the middle finger of his pitching hand.
The baffling injury that first bubbled to the surface in April landed Sanchez on the disabled list four times before the hard-throwing right-hander was shut down for good in September with the club playing out the string.
Sanchez threw just 36 innings with a 1-3 record and a 4.25 earned-run average — a far cry from the 15-2 mark and AL-best 3.00 ERA he put up in 2016.
"It was just one thing after another that we really couldn't control," the 25-year-old said Friday. "It went from trying to get ahead (of the injury) to falling way behind."
Speaking with reporters in the basement of an elementary school before a Blue Jays' winter tour event in suburban Vancouver, the six-foot-four, 215-pound Sanchez said having a seemingly minor issue derail his entire season was hard to comprehend.
"The frustrating part for me was it being so little, being so tiny," he said. "It could be worse. It could be other body parts on me that affect my career.
"I'm pretty confident that my finger, the way it is, will be fine this year. I'll have to maintain it like I have in years past, but no more of the disaster that it had last year."
That maintenance includes making sure his finger nail — which had a piece surgically removed in the first month of the 2017 season — is the right length, and that the skin isn't too hard or too soft.
"A lot of it is friction and force from the game," Sanchez said in describing how the blister occurred. "Humidity plays a big factor … there's so many different factors.
"Hopefully we can get this all fixed and move on."
Fellow starter Marco Estrada, who is on the winter tour with Sanchez, first baseman Justin Smoak and outfielder Dalton Pompey, said it was tough to see his young teammate deal with the maddening injury.
"To watch one of your friends go down like that and not be able to pitch sucks," said the 34-year-old right-hander. "It's not something you want to see for anybody, but when someone is that close …read more
Source:: Sportsnet.ca
(Visited 2 times, 1 visits today)