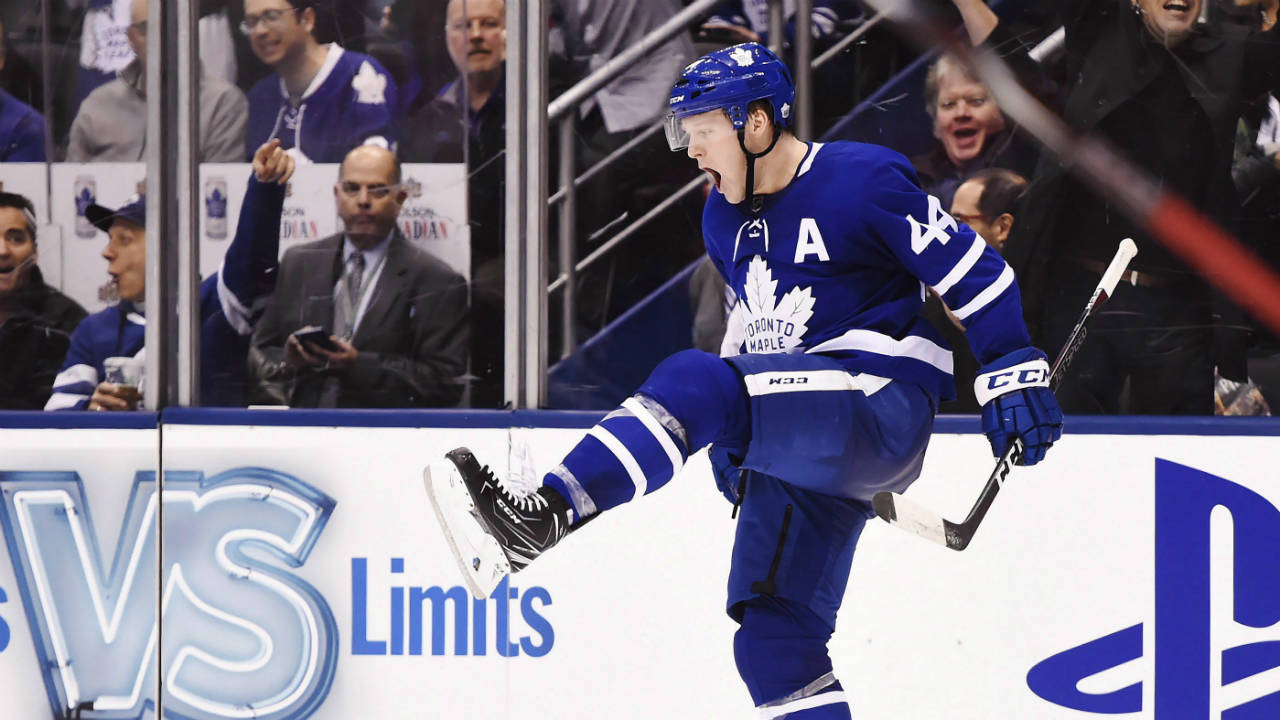 TORONTO – If you could condense the Toronto Maple Leafs' recent past, frustrating present and boundless future into a single hockey player, his name would be Morgan Rielly.
Monday night, Rielly turned the puck over to fellow 23-year-old No. 1 defenceman Seth Jones attempting a stretch pass that wouldn't, and the Columbus Blue Jackets tied that game on a late odd-man rush en route to an overtime victory.
Rielly responded the best way possible Wednesday versus the Ottawa Senators, whizzing and creating, slanting the ice toward Craig Anderson's net.
Skating a team-high 38 shifts, Rielly was on the ice for 34 shot attempts and was the greatest reason the home side controlled 65 per cent of the game's possession. Rielly scored the tying goal on one of his six shots on target, and made us question why — with his 31st point bumping him ahead of all-star game invitees Jones, Erik Karlsson, Brent Burns, and Drew Doughty in blue-liner scoring — he didn't get called to the Tampa showcase.
Then, with just 3:05 remaining in a 3-3 game, Rielly's ambition got the better of him again. Rielly pinched on Matt Duchene. Duchene blew Ron Hainsey's tires slamming the brakes on a 3-on-1 rush, and Ottawa's Tom Pyatt drilled the 4-3 winner.
if ( "1" == true && 'undefined' !== typeof window.getIndexAds ) {
var so = {preroll:{1:{1:{siteID:191888},2:{siteID:191889}}}};
adServerUrl = window.getIndexAds( 'http://pubads.g.doubleclick.net/gampad/ads?sz=640×360&iu=%2F7326%2Fen.sportsnet.web%2FVideo&ciu_szs=300×250&impl=s&gdfp_req=1&env=vp&output=vast&unviewed_position_start=1&ad_rule=1&vid=5707464455001&cmsid=384', so, permalink);
} else {
adServerUrl = "http://pubads.g.doubleclick.net/gampad/ads?sz=640×360&iu=%2F7326%2Fen.sportsnet.web%2FVideo&ciu_szs=300×250&impl=s&gdfp_req=1&env=vp&output=vast&unviewed_position_start=1&ad_rule=1&vid=5707464455001&cmsid=384";
}
$el.after( unescape("%3Cscript src="" + (document.location.protocol == "https:" ? "https://sb" : "http://b") + ".scorecardresearch.com/beacon.js" %3E%3C/script%3E") );
$( document ).one( 'ready', function() {
$( "#video_container-880273" ).SNPlayer( {
bc_account_id: "1704050871",
bc_player_id: "rkedLxwfab",
…read more
Source:: Sportsnet.ca
(Visited 1 times, 1 visits today)