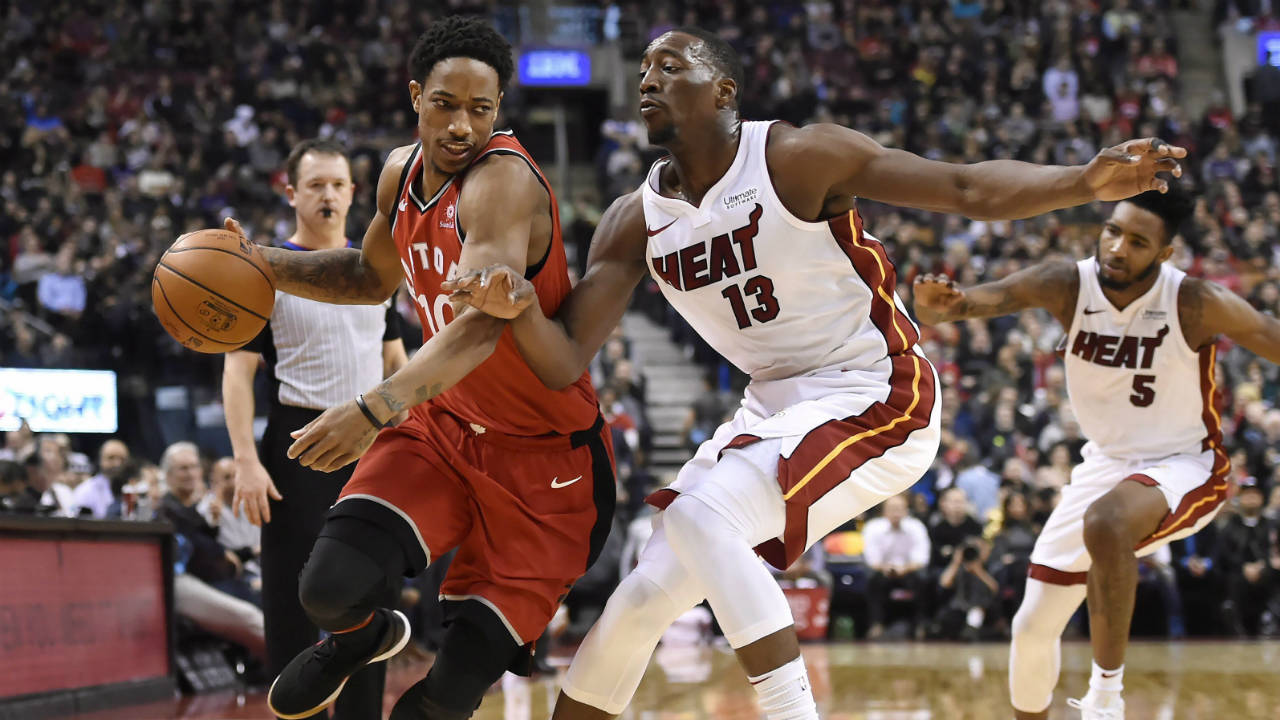 TORONTO — Practically the only thing Tuesday night's Toronto Raptors game didn't have was Kyle Lowry. There were big shots, awful misses, punches, massive dunks in transition, an implausible comeback, a last-second collapse, a post-game dust-up, and, eventually, a 90-89 Raptors loss at the hands of the Miami Heat.
It's a lot to process for Raptors head coach Dwane Casey as he gets his team ready to host two of the NBA's best teams — the Cleveland Cavaliers and Golden State Warriors — later this week, with Lowry potentially still sidelined and Serge Ibaka possibly suspended after trading fists with Miami's James Johnson.
We'll see how it all plays out. But here are three troubling stats from Tuesday's defeat that the Raptors will want to address between now and then.
Miami grabbed 20 offensive rebounds
Rebounding was by far the biggest discrepancy between the two teams, and explains how Miami managed to pull this win out despite being held to 40 per cent shooting, including 4-of-22 from beyond the arc. Letting a team recover 20 of its misses, and end up with 17 second-chance points, isn't found in too many winning formulas.
"It's attention to detail," Casey said. "Hitting someone before the shot's missed. We didn't do those things."
Ibaka's third-quarter ejection — following a scuffle with Johnson that Ibaka didn't provoke but didn't de-escalate either — certainly didn't help. He was leading the Raptors in rebounds at the time with five.
if ( "1" == true && 'undefined' !== typeof window.getIndexAds ) {
var so = {preroll:{1:{1:{siteID:191888},2:{siteID:191889}}}};
adServerUrl = window.getIndexAds( 'http://pubads.g.doubleclick.net/gampad/ads?sz=640×360&iu=%2F7326%2Fen.sportsnet.web%2FVideo&ciu_szs=300×250&impl=s&gdfp_req=1&env=vp&output=vast&unviewed_position_start=1&ad_rule=1&vid=5706463855001&cmsid=384', so, permalink);
} else {
adServerUrl = "http://pubads.g.doubleclick.net/gampad/ads?sz=640×360&iu=%2F7326%2Fen.sportsnet.web%2FVideo&ciu_szs=300×250&impl=s&gdfp_req=1&env=vp&output=vast&unviewed_position_start=1&ad_rule=1&vid=5706463855001&cmsid=384";
}
$el.after( unescape("%3Cscript src="" + (document.location.protocol == "https:" ? "https://sb" : "http://b") + ".scorecardresearch.com/beacon.js" %3E%3C/script%3E") );
$( document ).one( 'ready', function() {
$( "#video_container-720067" ).SNPlayer( {
bc_account_id: "1704050871",
…read more
Source:: Sportsnet.ca
(Visited 1 times, 1 visits today)