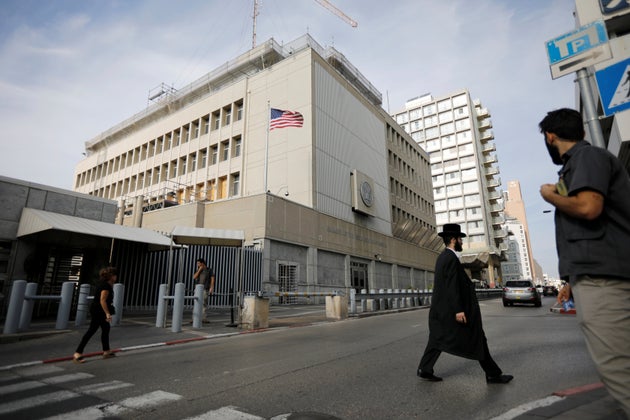 President Donald Trump officially recognized Jerusalem as Israel's capital on Wednesday and directed the State Department to move the U.S. Embassy in Israeltherefrom Tel Aviv.
The decision marks a controversial shift in U.S. policy that threatens to further inflame Israeli-Palestinian tensions.
The move is meant to signal "the beginning of a new approach to conflict between Israel and the Palestinians," Trump said Wednesday. "We cannot solve our problems by repeating the same failed strategies of the past."
He criticized former U.S. presidents for declining to recognize Jerusalem as Israel's capital, which he called a "long overdue step to advance the peace process."
Trump also vowed to help work toward a peace deal that is "acceptable to both sides," and said he would support a two-state solution if it was agreed to by both sides.
"This is nothing more or less than a recognition of reality," he said. "It is also the right thing to do."
There is no immediate timeline for when the relocation will occur. The pending move, which Trump had long offered as a promise to his evangelical voting base and pro-Israel American Jews, has already provoked outrage across the Middle East.
This is nothing more or less than a recognition of reality.Donald Trump
In response to Trump's announcement, Palestinian President Mahmoud Abbas condemned the move and said that the United States is withdrawing from its role as mediator in the peace process.
Both Israelis and Palestinians lay claim to Jerusalem, but Israel has controlled the city since 1967. Most United Nations members don't recognize Israel's sovereignty over East Jerusalem, arguing instead that the city should possess international status. For decades, U.S. policy has stated that Israelis and Palestinians should negotiate the city's status among themselves.
Since Palestinians also consider Jerusalem their capital, any policy that appears to favor the Israelis' claim over the Palestinians' is extremely contentious. The status of Jerusalem has therefore long been a key issue in the peace process, and Palestinian officials have said that any change to the city's status would be destructive.
Other presidents have also vowed to move the embassy
In 1995, Congress passed a law requiring the American embassy to be relocated to Jerusalem. However, every president since then has signed a national security waiver every six months to delay the move. Trump is still expected to sign the waiver, as the timing of the embassy move remains unclear and the law requires cuts to State …read more
Source:: The Huffington Post – Canada Travel
(Visited 1 times, 1 visits today)