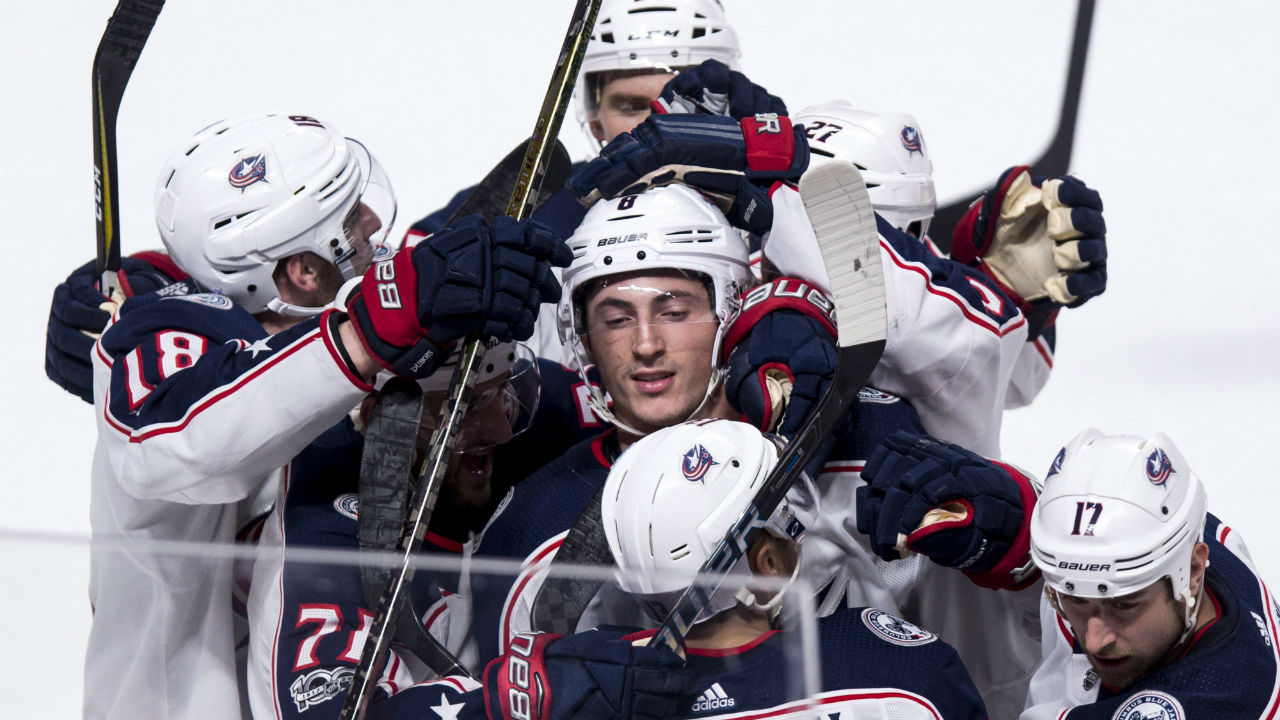 MONTREAL — Zach Werenski scored in overtime as the Columbus Blue Jackets held on for a 2-1 victory over the Montreal Canadiens on Tuesday.
Josh Anderson scored in the game's opening minutes for the Blue Jackets (11-7-1) while Sergei Bobrovsky made 28 saves.
Paul Byron had the only goal for the Canadiens (8-9-2). Charlie Lindgren, making his fifth consecutive start for Montreal, stopped 23 of 25 shots.
Werenski scored 1:31 into overtime with a wrist shot in the roof of the net, glove side on Lindgren.
Anderson put the visitors in front 2:29 into the game with his team-leading seventh goal of the season.
Montreal's Brandon Davidson tipped Markus Nutivaara's point shot right to Anderson, who let the puck drop to the ice before batting it past Lindgren. Davidson was also at fault seconds earlier when Nutivaara intercepted his failed clearance at the blue line.
The goal came on Columbus's second shot of the game.
Byron, playing his 300th NHL game, came close to equalizing midway through the second period. With the Canadiens playing shorthanded, Byron stole the puck from Seth Jones at the blue line and moved in all alone on Bobrovsky, but the Blue Jackets goalie got his pad on the shot.
The Habs upped the pressure in the third period but Bobrovsky was again up to the challenge.
Bobrovsky, without his stick, robbed Jacob De La Rose with a blocker save on a 2-on-1 five minutes into the period. Three minutes later, he made three consecutive saves on Canadiens captain Max Pacioretty.
Montreal finally broke through when Byron poked a loose rebound over Bobrovsky's shoulder into the top corner of the net at 12:14 of the third.
With forward Torrey Mitchell out with the flu, the Canadiens were forced to dress seven defencemen. Rookie Victor Mete played on the fourth line with Jacob De La Rose and Byron Froese.
Earlier on Tuesday, the Canadiens claimed goalie Antti Niemi off waivers from the Florida Panthers. Carey Price (lower body) and Al Montoya (concussion) are still sidelined with injuries.
Notes: Montreal conceded the game's first goal for the 13th time this season. … UFC middleweight champion …read more
Source:: Sportsnet.ca
(Visited 2 times, 1 visits today)