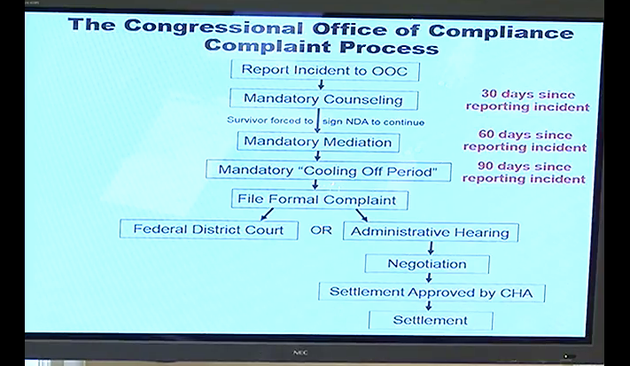 WASHINGTON ― Rep. Jackie Speier (D-Calif.) said Tuesday that she knows of two members of Congress who are currently in office ― a Democrat and a Republican ― who have sexually harassed staffers.
Speier has been an outspoken advocate for making it easier for individuals who work in Congress to report sexual misconduct. The current lengthy and convoluted process makes it difficult for accusers to step forward and discourages them from doing so.
Speier recently revealed that when she was a staffer on the Hill, the chief of staff in her office sexually assaulted her.
I'm sharing my #MeToo moment in the hope that my colleagues, & current/former staff who feel safe to do so, will join me. #MeTooCongresspic.twitter.com/dsGFhJ5joo
— Jackie Speier (@RepSpeier) October 27, 2017
Since sharing her story, she said she has heard from a number of men and women, both current and former staffers, who have been subject to sexual harassment.
"In fact, there are two members of Congress, Republican and Democrat, right now who serve, who have been subject to review or have not been subject to review, but have engaged in sexual harassment," Speier said in her testimony before the House Administration Committee, which held a hearing on sexual harassment in Congress Tuesday morning.
Speier did not name the members.
The congresswoman also said she had heard of victims "having their private parts grabbed on the House floor."
Rep. Barbara Comstock (R-Va.), a member on the committee, also said she had heard of a congressman who is currently serving who had exposed himself to a young female staffer. She did not know the identity of the congressman.
"This member asked a staffer to bring them over some materials to their residence. And a young staffer ― it was a young woman ― went there and was greeted with a member in a towel. It was a male, who then invited her in. At that point, he decided to expose himself," Comstock said. "She left, and then she quit her job."
"What are we doing here for women right now," she added, "who are dealing with someone like that?"
In recent weeks, after women have spoken out against film producer Harvey Weinstein and other high-profile men for sexual assault, staffers on Capitol Hill have also been telling their own stories about how toxic the culture is in Congress.
Sexual harassment is an open secret on the Hill, with female staffers warning …read more
Source:: The Huffington Post – Australia
(Visited 2 times, 1 visits today)