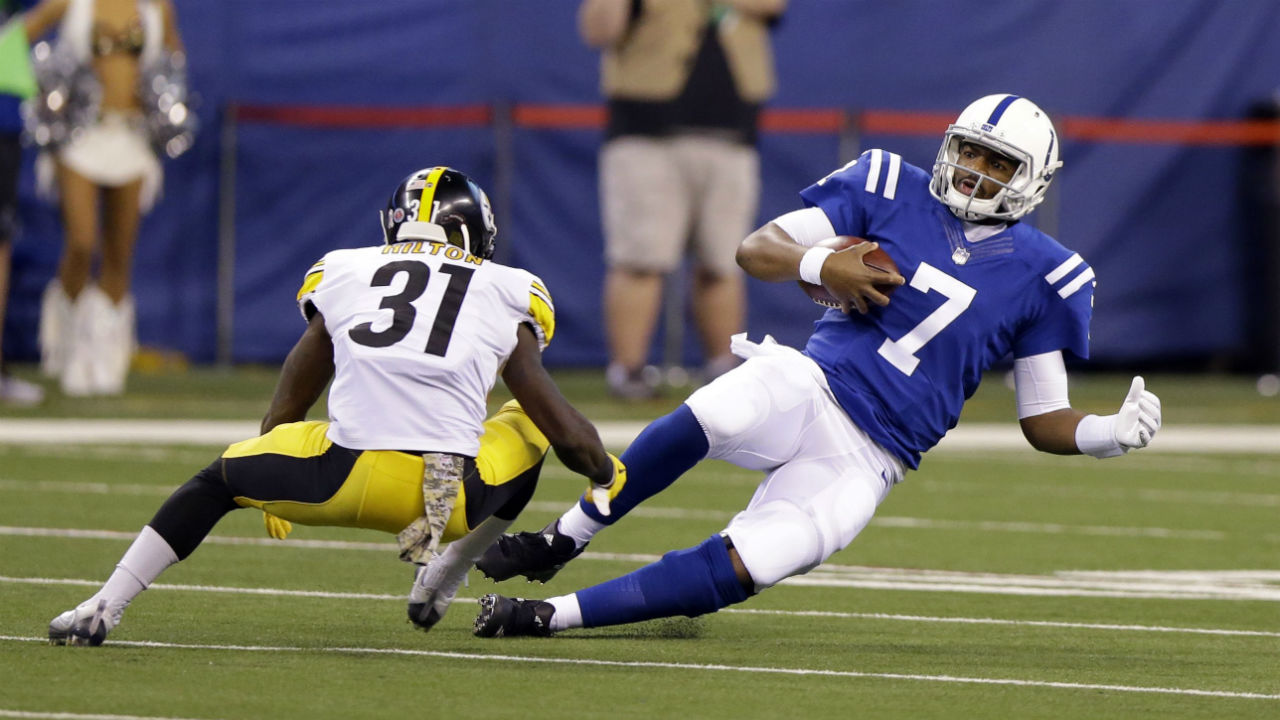 Jacoby Brissett wasn't around to answer questions after the Colts' 20-17 loss to the Pittsburgh Steelers on Sunday.
He was still being evaluated for a head injury by team doctors even though he had cleared through the NFL's concussion protocol late in the third quarter.
"Scotty (Tolzien) started warming up as soon as Jacoby came out, because we could have lost him for the entire game," coach Chuck Pagano said.
"So he went through the protocol and passed it and got back out there in time to run that series."
Team officials said Brissett was initially evaluated for a concussion on the sideline twice — once with team doctors and once by the unaffiliated neurological consultant. He passed both times.
Then, after the game, he developed concussion-like symptoms again and returned to the protocol.
Colts cornerback Kenny Moore also left in the third quarter with a concussion and tight end Darrell Daniels and linebacker Darnell Sankey both left with hamstring injuries in the fourth quarter.
Steelers cornerback Joe Haden broke his left leg in the game. Starting safety Mike Mitchell left on a cart with an injured right ankle and did not return.
Running back Devonta Freeman was hurt on Atlanta's second offensive play in the Falcons' win over the Cowboys. After gaining a yard on first down, he took a blow to the side of the head from Cowboys linebacker Anthony Hitchens.
Freeman was wobbly after the hit and walked off the field with the help of trainers. After a brief stint in the observation tent, he was taken to the locker room and didn't return.
Dallas linebacker Sean Lee also went out in the first quarter with a hamstring injury.
Saints coach Sean Payton said "all the signs are positive" in updating the status of backup running back Daniel Lasco, who had feelings in his extremities after sustaining a spine injury while tackling Brandon Tate on a kickoff return six minutes into the second quarter.
Lasco was loaded into an ambulance and transported to a Buffalo-area hospital.
Bills defensive end Jerry Hughes did not return after hurting his shin late in the second quarter.
Packers running …read more
Source:: Sportsnet.ca
(Visited 2 times, 1 visits today)