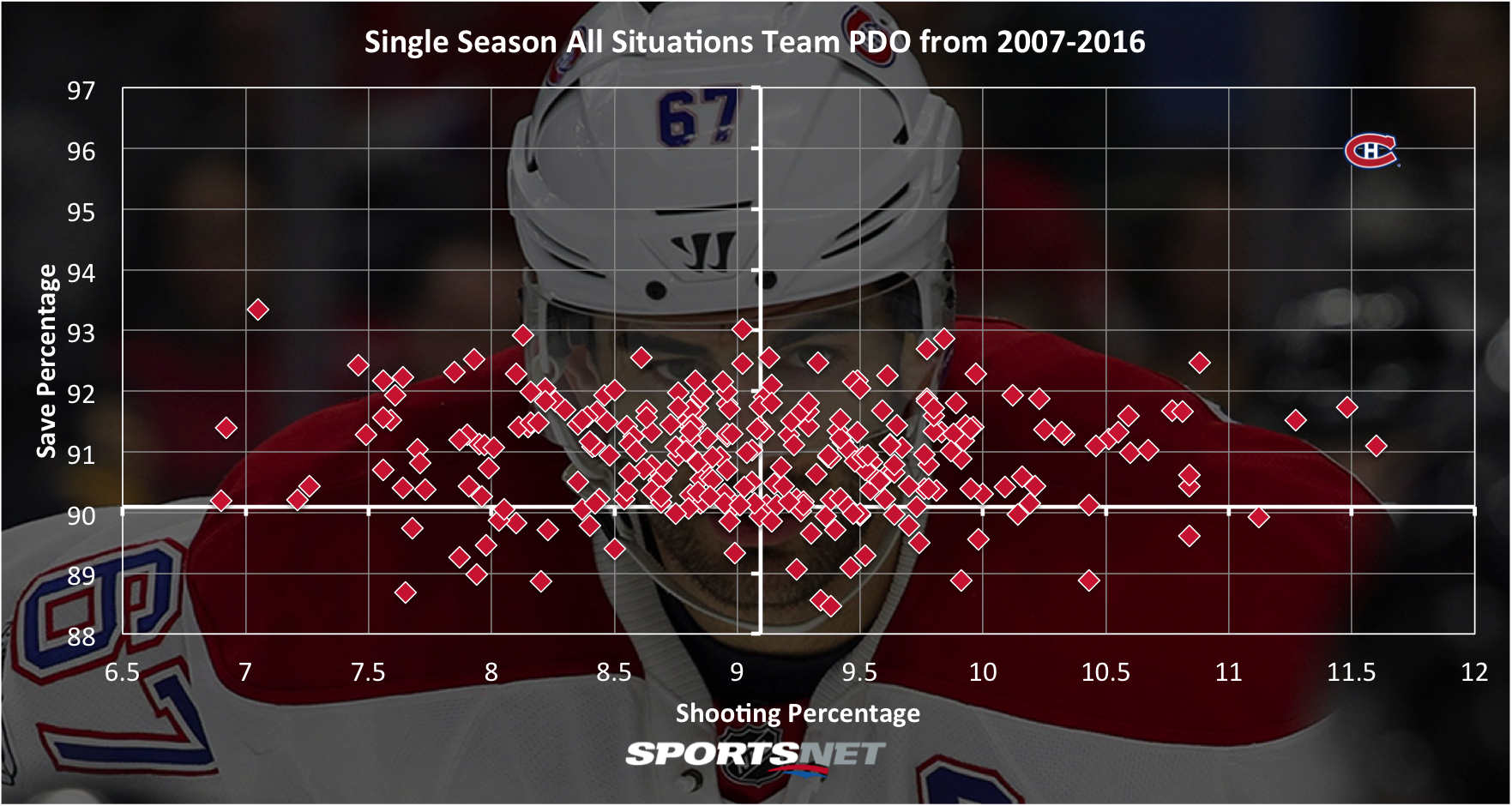 Last season after the Montreal Canadiens got off to a ridiculous start to the season, my own curiousity had me looking up how much of their record was due to solid performance and how much was due to getting lucky.
Plotting their on-ice shooting and save percentages as a team on a graph that included every other team from the 2007-08 season to the 2015-16 season, it was quite clear that the run they were on wasn't sustainable, just take a look.
Predictably, the Canadiens ran into a real rough patch about a month later, and didn't really recover until Michel Therrien was let go and Claude Julien was brought in to right the ship.
The lesson here is that the beginning of the season often produces weird results that won't last the entire year. The Canadiens were a good team last season, their level of performance was consistently that of a top-10 club, but the results they produced were wildly inconsistent. In the end they won their division, but didn't do much damage in the playoffs.
That brings us to this season, where the opposite is happening as the Canadiens have opened the year with just four goals in four games, earning a shootout win and three regulation losses.
There are always some small things going wrong when teams aren't scoring like the numbers say they should, but those small details never last very long unless a team is totally bereft of talent or ravaged by injuries. But just for illustration, what would the Canadiens' current on-ice percentages look like compared to the last decade of hockey?
You thought last year's start broke the graph? Now you see what the combination of small sample size and absurd bad luck are able to create.
Here's the thing about the Habs' …read more
Source:: Sportsnet.ca
(Visited 1 times, 1 visits today)