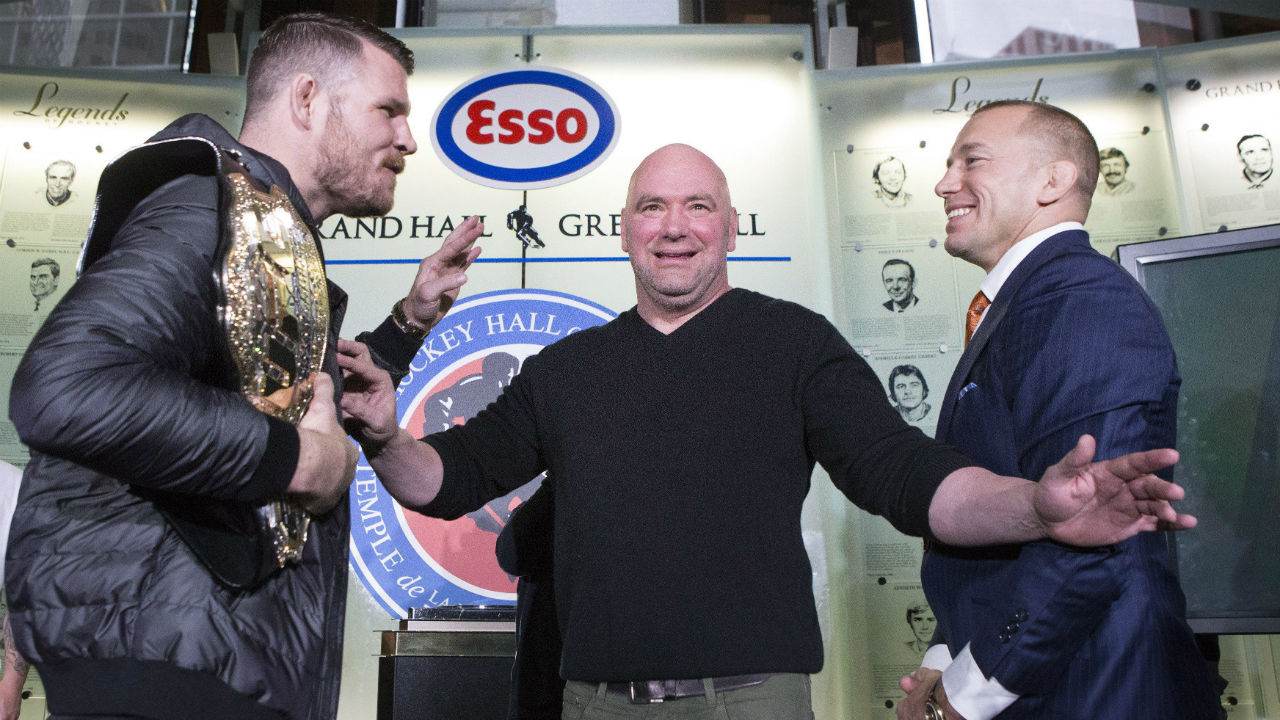 TORONTO — Under the Hockey Hall of Fame's tall, arching ceiling, and in front of columns of plaques enshrining square-jawed NHLers from decades ago, a couple fighters got down to business in Toronto's financial district on Friday.
The business of fighting is still three weeks away, set for Nov. 4 at Madison Square Garden, where UFC middleweight champion Michael Bisping will defend his title against Georges St-Pierre, the Canadian mixed-marital arts legend making his return to the sport after a four-year sabbatical.
Rather, Friday was about the business of further convincing people to buy the fight, which headlines perhaps UFC's deepest card of the year and comes on the heels of two of its most disappointing from a pay-per-view purchase perspective.
UFC 217 will feature tantalizing bouts for purists, including a much-anticipated bantamweight title fight between Cody Garbrandt and T.J. Dillashaw, Joanna Jedrzejczyk's attempt to defend her strawweight belt for a record-tying sixth time, and a potentially explosive bout between Stephen Thompson and Jorge Masvidal.
But it will also be headlined by the clash between Bisping and St-Pierre, one that doesn't make a lot of sense in terms of middleweight meritocracy, but that the promotion hopes fans simply want to see.
Surely it would be more logical, competitively speaking, for Bisping to face Robert Whittaker, the interim champion who has been picking off middleweight contenders one by one since entering the division three years ago. Or Luke Rockhold, who Bisping knocked out to win the title a year-and-a-half ago in a shocking result, and has since returned from hiatus with designs on recapturing the belt. And that's not even to mention the insanely athletic Olympic medalist Yoel Romero, the Brazilian jiu-jitsu black belt Jacare Souza, and the former champion Chris Weidman, who are all waiting patiently in line for the division to get moving.
St-Pierre, meanwhile, …read more
Source:: Sportsnet.ca
(Visited 1 times, 1 visits today)