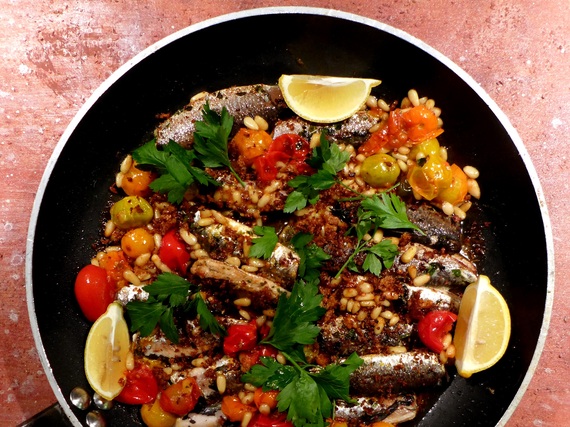 It sounds a bit like something Harry Potter would shout, pointing his wand desperately as the minions of evil swarm towards him in the nether regions of Hogwarts. It is, however, the Latin name for the European pilchard, known for marketing reasons these days as the Cornish sardine (or as Voldemort might say, ssssardine).
I've written elsewhere about the confusion over sardines v pilchards and if you want to delve further you may find this article of interest. To be honest, I couldn't care less what they're called because these taut, silvery little fish are quite simply delectable.
I bought mine ready butterflied from the excellent Munnery Brothers of Lowestoft. It's not difficult to do but your fishmonger will oblige if you ask him or her nicely.
I've given the sardines a Mediterranean spin in this recipe, taking a pinch of spice from Morocco and adding other elements from Spain. They take a little time to marinate but they cook in minutes. Try them with crusty bread and a salad: like a last taste of summer.
Sardines with Tomatoes and Pine Nuts (serves 3-4 as a light main
Ingredients:
15-16 butterflied sardines (allow 4 or 5 per person)
About 12 cherry tomatoes
2 tbsp pine nuts
1 tbsp olive oil
For the marinade:
1 tspn ground coriander
1 fat clove of garlic, peeled and crushed
A big handful of chopped parsley
Zest and juice of 1/2 lemon
1 tbsp olive oil
A few grinds of salt and black pepper
For the crunchy crumbs:
About 4 tbsp rough breadcrumbs
1 clove of garlic, peeled and crushed
1 tspn sweet smoked paprika (or hot paprika, or a combination)
1 or 2 tbsp oil
To serve:
Lemon wedges and a few sprigs of fresh parsley
Method:
Mix together the marinade, put the fish in a non-reactive dish and coat them inside and out. Cover and place in the fridge for between one and …read more
Source:: The Huffington Post – UK Lifestyle